Spring Luncheon – April 13, 2019 at Noon
Spring Luncheon "The Art of Letter Writing", 
Saturday, April 13 at Noon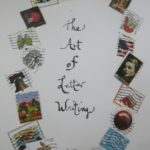 Enjoy luncheon donated by Jimmy and Regina Traynor's West Side Market Café, followed by a presentation on "The Fine Art of Letter Writing" by Carol Ann McCarthy of Hudson. Please send $26 ($24 for members) to the WPS 3314 Myers Rd Medina, 44256. Include your email or phone and with whom you'd like to be seated. Parking and restrooms are accessible. Seating is limited!.