Where Exactly is Weymouth?
Where Exactly Is Weymouth?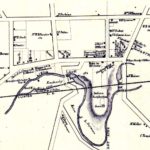 A question that we hear often! The original area of Weymouth was the entire township, into what is now Medina City, and into Granger, Brunswick and Hinckley Townships. Weymouth had the only post office, "high school" (to 8th grade), stores, and churches in that entire area. People got their mail addressed as "Weymouth, Granger Township, Medina county, Ohio". Other small neighborhoods in the Township were Hamilton's Corners (one-room schoolhouse and cemetery), Fenn's Corners (schoolhouse), Windfall (schoolhouse and cemetery), Bagdad, Northropville (schoolhouse and private family cemetery), and Medina Center (schoolhouse, cemetery and township hall). Weymouth had a post office from the 1820s to 1906.